Sometimes, IT services can be frustrating, costly, and cumbersome, but they shouldn't be. designDATA invests the time to understand your business goals before implementing modern, innovative, and customized technology solutions. We save you time and money while empowering your organization with flexible IT strategies that increase productivity and enable scalability.
24/7 service desk to support rapid growth and enhance productivity
Flexible data center and cloud solutions backed by extensive audits of all functions, processes, controls, and procedures (so your data is safe and secure)
Robust cybersecurity built around industry-best-practices
Productivity & Automation tools, policies, procedures, and support
Budget-friendly hardware financing options
IT asset management, including a buy-back program for old hardware to benefit Project Reboot
Flexible data center onsite support to fix critical issues and minimize downtime
Enterprise-level IT consulting and executive strategy
Free training to drive efficiency and empower your workforce
Dedicated and specialized support for Apple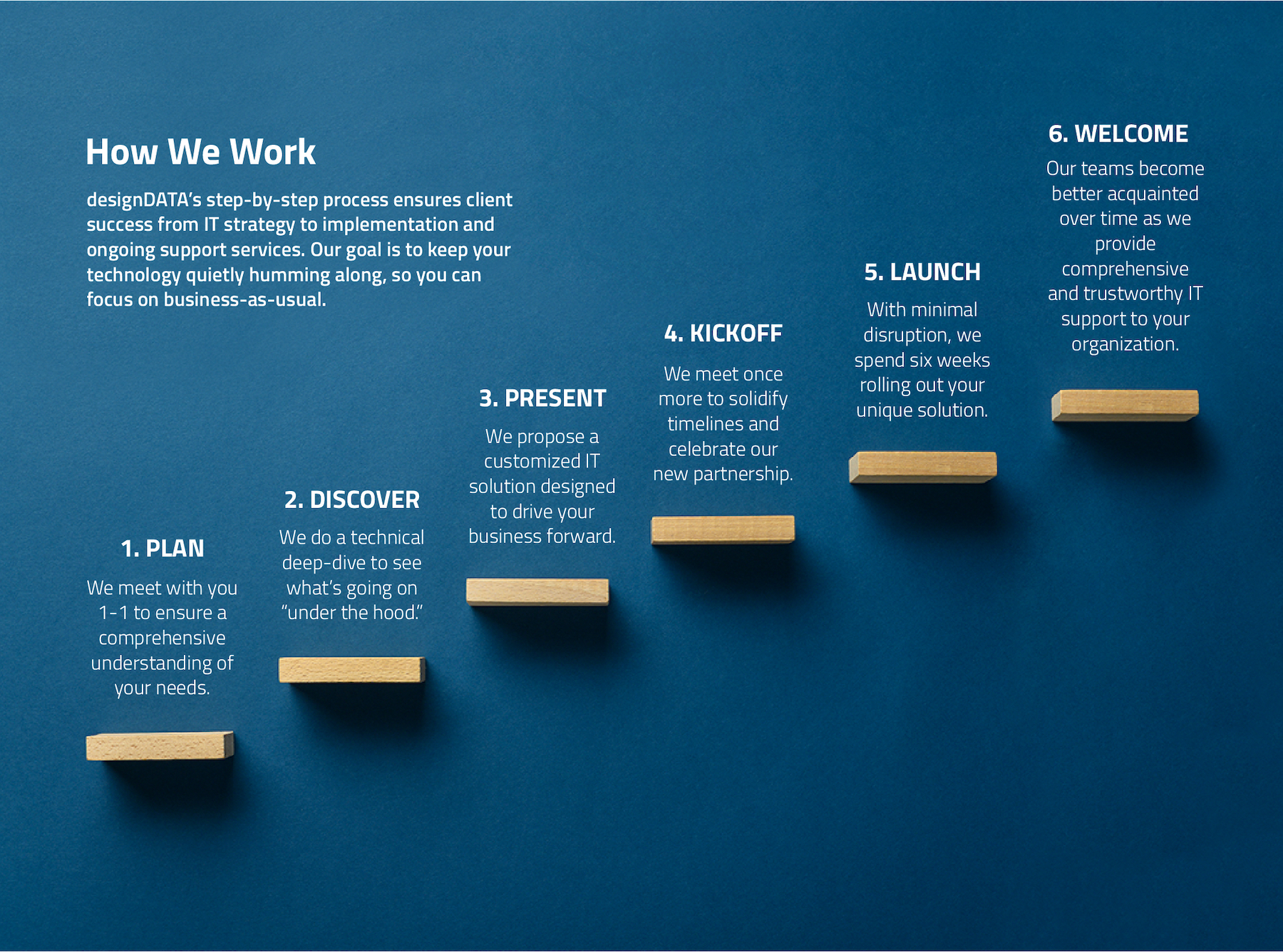 designDATA takes the time to understand the critical areas of your business and your goals. We use this understanding to build an outcome-based IT solution unique to what you need to grow your business. designDATA is more than just a service provider; we are your strategic IT partner.
designDATA has invested the time and resources into developing the expertise to solve your IT problems before they arise. You will have a consistent team of focused IT professionals who understand your unique business requirements and who will always be your point-of-contact. We pride ourselves on getting to know you and your team on a first-name basis.
Enterprise Support for ALL Devices (not just Windows!)
Most IT service providers don't offer a robust support program for macOS and iOS. With the bring-your-own-device (BYOD) trend and the sudden switch to remote working, support for Apple products is now critical. At designDATA, we recognized this need and developed a solution. Our new Apple offering includes remote management, dedicated and certified end-user support specialists, training services, zero-touch deployment of new systems, security compliance, data backup, and service updates.
When your end-users have a deep understanding of the tools to run your business, they are empowered to work smarter and faster. At designDATA, we have developed an extensive training video library free to all of our clients. We also run live training sessions every week. Our goal is to maximize your workforce productivity by creating tech-savvy end-users at every level of your organization.
designDATA is proud to be an AICPA SOC audited company. This certification from America's foremost CPA institute involves a 6-month independent evaluation of all designDATA's functions, processes, controls and procedures.
This certification is not performed by many IT managed services providers because it requires a significant investment of time and resources. We take security seriously, and we want you to know that your critical data is always safe in our hands.
Interested in more details? Read our reports here: