designDATA Welcomes "Francine" to Hardware as a Service Program
Amazing 2lb Francine is a featherweight laptop packed with processing power and memory.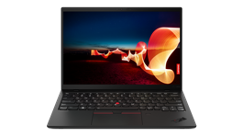 Washington, DC – June 3, 2021. Washington-based designDATA is excited to announce the newest upgrade to our HaaS offering: Francine. Francine is the latest and ultralight Lenovo X1 Nano, boasting a 13" screen and nearly full-sized keyboard while only weighing an astonishing two pounds. This equipment also offers a minimalist design, rapid charge, a long-lasting battery, and compatibility with existing Lenovo G2 USBC and Thunderbolt docking stations.
designDATA President and CEO Matt Ruck has been the test case for the new laptop. He expresses, "Our clients are going to love this laptop. It is as powerful as any I've used, runs cool (not a lot of heat coming off the machine), and has that typical Thinkpad keyboard and trackpad most people have grown accustomed to. Francine only has a single thunderbolt port for expansion; however, paired with a travel port replicator, this is a trade-off many will find acceptable."
All of designDATA's HaaS Lenovo devices, including Francine, boast i5 and i7 Intel processors, 16GB of system memory, and a minimum 512GB solid-state disk drive.  Our equipment profiles fit wide-ranging use cases, including executive small form factors, flexible office workhorses, and convertible laptop tablets. Machine selection now focuses where it should: choosing the ideal platform for everyone rather than focusing on performance specifications.
What is Hardware as a Service (HaaS)?
In a HaaS equipment service model, instead of self-managing equipment acquisition, deployment, maintenance, and upgrades, designDATA clients pay an attractive monthly fee for the equipment they need. designDATA stocks equipment so that we can deploy new users or swap equipment for existing users quickly and efficiently; our buying power as a large IT services corporation is passed along to our clients.
"In today's quickly-evolving technological landscape, it's integral that an IT MSP prioritize the fluctuating changes of their clients," expresses Matt Ruck. "HaaS is one great way of achieving this goal; we can arm the end-users we support with the best devices available in the market. Every development in our HaaS equipment offering enables our clients and their teams to do their best work securely."
Why Join designDATA HaaS Program?
There are many advantages for IT services providers and business leaders when considering designDATA's HaaS offering, like:
Seamless and quick scalability.
Peace of mind: let us build, acquire, and maintain your equipment. We also offer "hot-swapping" options for three years: we will replace or add any components to your hardware without stopping, shutting down, or rebooting the system.
Gain control and security over your hardware and data when our HaaS offering is paired with our cybersecurity services.
"We have found that Hardware as a Service has alleviated much of the strain on our clients to provide and maintain employee hardware. This is a value that we don't take lightly; we are dedicated to continually enhancing our HaaS offering and meeting the needs of our community," explains Ted Dennis, Vice President of Operations at designDATA.
designDATA is an IT Managed Services Provider focused on equipping organizations with scalable solutions that enable teams to do their best work securely. We strive to see the world through our clients' eyes, aligning IT operations with organizational priorities and ensuring staff have the resources they need to excel. We provide 24/7 tech support, data center and cloud services, robust cybersecurity solutions, exceptional end-user training, and enterprise-level consulting services.
For more information on our Hardware as a Service offering, visit our website or contact:
Erik Haas
Director of Sales and Marketing
designDATA
240-599-8340
ehaas@designdata.com