designDATA Completes 9th Annual AICPA SOC
Audit
Continuing To Invest In Data Management And Security Assurance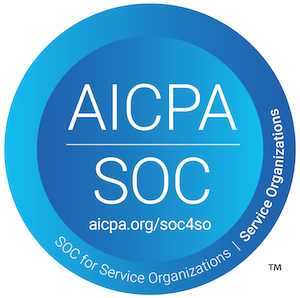 Washington, DC – September 28th, 2021. Washington, DC-based designDATA is excited to announce the 9th annual completion of both SOC 1-SSAE 18 Type II and SOC 2-SSAE 18 Type II audits.
The American Institute of Certified Public Accountants (AICPA) created Service Organization Control (SOC) reports for service organizations that provide services to other entities. The intent is to help build trust and confidence in an organization's services and controls through a report by an independent CPA. 
The SOC 1 report evaluates the effect of the controls at the service organization on the user entities' internal control over financial reporting (ICFR). The SOC 2 report evaluates the controls at a service organization pertaining to security, availability, processing integrity, confidentiality, or privacy. Both SOC 1 and 2 Type II audits report on the fairness of the presentation of management's description of the service organization's system and the suitability of the design and operating effectiveness of the controls to achieve the related control objectives throughout a specified period.
"Data security is particularly critical in the current business climate. Our successful completion of AICPA's SOC I and II audits illustrates how designDATA's systems and processes are of the highest possible integrity. We have been concerned with our clients' data security since before it was essential, and we will continue to dedicate ourselves to superior security for years to come," said Jonathan Roy, Director of Security and Compliance at designDATA.
designDATA performed both SOC 1-SSAE 18 Type II and SOC 2-SSAE 18 Type II audits to further analyze and validate management and security controls, emphasizing their dedication to remaining security-focused in 2021.
About designDATA
designDATA is an IT Managed Services Provider focused on equipping organizations with flexible solutions that enable scalability without compromising security. They take the time to understand an organization's business objectives and provide strategically aligned IT solutions through 24/7 service desk support, data center and cloud services, robust cybersecurity solutions, exceptional end-user training, and enterprise support for Apple.
For more information about designDATA, visit https://www.designdata.com/ or contact:
Erik Haas
Vice President, Business Development
designDATA
240-599-8340
ehaas@designdata.com
Our SOC 1-SSAE 18 Type II audit may be reviewed here.
Our SOC 2-SSAE 18 Type II audit may be reviewed here.