designDATA Completes 8th Annual AICPA SOC
Audit
Continuing To Invest In Data Management And Security Assurance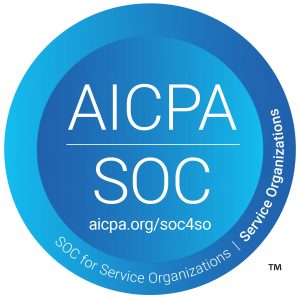 Washington, DC Metro – September 24, 2020, Washington, DC-based designDATA is excited to announce the completion of both a SOC 1-SSAE 18 Type II and SOC 2-SSAE 18 Type II audit.
Service Organization Control (SOC) reports were created by the American Institute of Certified Public Accountants (AICPA) to implement a standard for compliance related to a customer's internal control over financial reporting (ICFR).  A SOC 1 report concentrates on the policies and procedures that impact a client's ICFR. It attests that the people and systems responsible for the controls are doing their job in a way that will not negatively impact their client's ICFR. A SOC 2 report is an attestation report validating that an organization has implemented the proper controls for handling data relevant to security, availability, processing integrity, confidentiality, and system privacy.
"Since 2013, designDATA has performed a comprehensive and independently audited assessment of our IT and security practices through the form of an AICPA SOC audit. These audits impose a rigorous analysis of our internal business processes and operations to ensure that we properly manage and protect our data and data belonging to our customers. It ensures that we maintain data confidentiality, integrity, and availability through systems such as appropriate access control lists, thorough and frequent backups, encryption, antivirus, and human resources policies," says Jonathan Roy, Director of Security and Compliance at designDATA.
Security Focused For 2020
designDATA performed both a SOC 1-SSAE 18 Type II and SOC 2-SSAE 18 Type 2 audits to further analyze and validate management and security controls.
"We are happy to report that not only have we successfully passed the audit every year since 2013, but we have also received zero exceptions in each of the last five years. To maintain transparency with our clients, we have contractually obligated ourselves to publish the full findings of the audits each year. These reports are available now on our website for the period ending May 31, 2020. Bad actors are getting smarter, and they are realizing that Managed Service Providers are entrusted with the security of the organizations they support. We recognize that we have a critical responsibility not only to recommend best-in-class data management and security practices for our clients but to live them ourselves," explains Matt Ruck, President & CEO of designDATA.
About designDATA
designDATA is an IT Managed Services Provider focused on equipping organizations with flexible solutions that enable scalability without compromising security. They take the time to understand an organization's business objectives and provide strategically aligned IT solutions through 24/7 service desk support, data center and cloud services, robust cybersecurity solutions, exceptional end-user training, and enterprise support for Apple.
For more information about designDATA, visit https://www.designdata.com/ or contact:
Erik Haas
Director of Sales and Marketing
designDATA
240-599-8340
ehaas@designdata.com
We publish our audit results publicly on our website.
SOC 1-SSAE 18 Type II audit may be reviewed here.
SOC 2-SSAE 18 Type 2 audit may be reviewed here.